How StuComm is changing student communication
Article by Startupjuncture

We interviewed Ronald Kouvelt of EduTech startup StuComm. The company was founded just eight months ago and is ready to become student communication market leader in The Netherlands. What makes them so successful?
StuComm
StuComm wants to facilitate communication between students and educational institutions. To achieve this, they are listening to the students' needs for mobile access to grades, schedules and course enrolment, while at the same time providing universities and schools with the right kind of tools to communicate with students.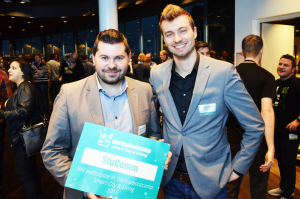 StuComm was founded by Ronald Kouvelt and William Viveen in 2014. Just months later, they enrolled in the Pressure Cooker programme of Utrecht-based incubator UtrechtInc and were named the best startup of the programme. Still operating from their UtrechtInc office at the Utrecht University campus, StuComm was recently admitted to the Startupbootcamp Smart City & Living accelerator programme. Together with ten other startups, they prepare for demo day on the 3rd of July.
Competitors, partners, or neither?
We have no real competitors.
When being asked why StuComm is better than competing products, Kouvelt is clear: "We have no real competitors."
Kouvelt continues: "Student information systems that are being used right now (Blackboard, Osiris, SharePoint, etc), rarely offer an app. The ones that do, all basically can just perform a single task. It's either an app that shows student grades, one for schedules, or one for cancelled classes. Apps that combine all those things simply didn't exist yet."
StuComm fills that gap by providing students with an app that does it all: grades, schedules, cancelled classes, enrolment, the latest news from school management, you name it, StuComm can implement it. The data for all this comes from databases filled by the educational institutions themselves, but also from the afore-mentioned systems like Osiris and SharePoint.
As providers of existing student information systems are no real competitors, and as their systems handle a lot of useful data, maybe it's worth considering partnerships with them instead? Kouvelt: "I would love to partner up, but they rather shield the data from us. Their mindset is kind of antiquated, and they would prefer to keep data for themselves during their long-term contracts with educational institutions. Those institutions on the other hand, prefer to share the data with us though, so things are changing little by little."
Improving the way students communicate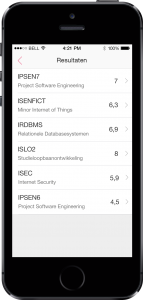 Universities receive a lot of complaints about existing student communication systems. They are not very user-friendly and students don't always receive all necessary information in time. This can lead to lower study results and eventually to study delays. For universities, study delays are costly. Kouvelt: "Universities do not have enough money to provide delayed students with the same kind of attention that the rest of the students receive. The StuComm app decreases the number of complains universities receive, while increasing reputation and study results."
Schools and Universities are willing to pay for this. Right now StuComm has contracts with several schools and their student app has between 18.000 and 20.000 users.
Educational institutions are willing to 'grant' startups like StuComm the business they are getting, so to say.
Being a startup from Utrecht, with a strong connection to the Hogeschool and the university, has been beneficial for StuComm in getting its first customers. But there is more, according to Kouvelt: "Educational institutions are seeing that it's getting more and more important to do business with startups. Today's students might be the future employees of those same startups. Educational institutions are willing to 'grant' startups like StuComm the business they are getting, so to say."
Listening to users who are not your customers
StuComm uses a licensing model. Educational institutions pay a fixed amount per student per year, plus a fee for converting their existing systems so they can work together with the StuComm app. The educational institutions may be StuComm's paying customers, their main users are the students. How is it to design a product for users who are not your customers? Kouvelt sees just benefits: "The licensing model we are using provides us with recurring revenue and a long-lasting relationship with the customer. And by being into close contact with our users, we were also able to add features to the app that are not directly related to the information systems of the educational institution, like the feedback function for example."
The feedback function Kouvelt is talking about, provides the students with a set questions in a Tinder-like interface, allowing them to give their feedback on all kind of topics, by swiping them to the left (no) or to the right (yes).
Life's like a game
Being based on the Utrecht University campus makes it very easy for StuComm employees to visit the Hogeschool Utrecht or Utrecht University to talk with students. One of those students came up with this idea: what about implementing a step counter? Because when you are walking between classes, you are burning a lot of calories. You see, StuComm is not all serious business, there is also the fun aspect.
When a student opens up the app five times during the night, he gets the 'night owl' badge.
Thomas Neuteboom, StuComm's lead developer came up with the idea of gamification. Kouvelt: "When you are entering the city of Utrecht, a sign shows your driving speed, together with a happy smiley when you are not speeding. This is a form of direct positive feedback, and that's what we wanted to implemented in the student app as well. When a student opens up the app five times during the night, he gets the 'night owl' badge. And when finishes his first year at university, there is confetti and a cup. We are thinking about adding more competition elements, for example a competition between classes of a school.
Educational institutions have to pay for games?
Kouvelt: "Of course, the educational institutions, being the customers, have the final say in what the product will look like. They don't pay for things they don't want."
Looking ahead
For now, Stucomm provides just the student app to its customers. But as a service provider for educational institution, they might offer a range of products in the future. Kouvelt: "I envision an app that will help high school students decide wich school or university to choose. And an app for alumni, so they can stay into contact with their educational institutions. A lot of former students work in SME companies or as entrepreneurs. They can provide valuable information to students and might even find the intern they are looking for."
The StuComm products look highly scalable, easily transferable from one educational institute to another. There could be possibilities in both The Netherlands as in the rest of Europe.
Recently, the StuComm team has been to Berlin, to explore possibilities at foreign universities. "That was just a scouting expedition. I've also spoken with people in Paris, in Scotland and in Washington D.C. If the opportunity arrises, we will not hesitate to expand to other countries, but at the moment, we want to focus on expanding within The Netherlands. There are still many schools and universities we want to have as our customers, and we want to become market leader for student communication tools in The Netherlands."
Startup Life in The Netherlands
Maybe startups should also try to help each other a bit more, without expecting something in return.
On being asked how he likes startup life in The Netherlands, Kouvelt reacts positively: "The infrastructure is great. Internet and WiFi are fast and reliable, things we need for our apps. Also, the startup scene is booming at the moment, there is so much going on here."
Of course, it's not all perfect. When being asked if there are any negative sides of startup life in The Netherlands, Kouvelt responds: "You are not allowed to fail. I think it is better to fail than to not have tried. I like to stimulate people to do their utmost best. And, maybe startups should also try to help each other a bit more, without expecting something in return."
Source: https://startupjuncture.com/20…